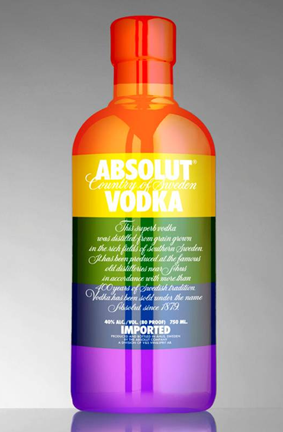 Premiering at the Parisian boutique colette, Absolut Rainbow!
The latest limited edition vodka bottle in celebration of the 30th anniversary of the rainbow flag. The rainbow flag has been a symbol of the GLBT community for 30 years and was first popularized as a symbol of GLBT pride by San Francisco artist Gilbert Baker in 1978. The colors of the rainbow have become symbolic of both the unity and diversity of our community.
Absolut Colours will be introduced in June, with the launch of a limited edition gift pack inspired by the rainbow flag. The classic shape of the Absolut bottle is enlivened with six brightly coloured bands, and complementing the special edition the initiative will also feature a limited edition cocktail book – the Absolut Colours Cocktail Collection. The book is a stylish, lavishly-illustrated cocktail guide, featuring drinks based on the six colors of the rainbow flag, and with a foreword by Gilbert Baker. Funds raised from sales of the cocktail book will be donated to support of LGBT communities and organizations.
Happy Friday yall - Have a drink on me!