When I first was introduced to the art of dance by Lisa Bufano I instantly fell in love...

I fell in complete awe -- not only because of her true beauty and courageousness, but this girrl has some unbelievable modern dance moves! Her movements narrate a wonderful story. Ms. Bufano is as graceful any swan or dove.




Company C Contemporary Ballet presents The Oakland Dance Festival with AXIS Dance Company in Wood Hearts, performed by Lisa Bufano & Sonshere'e Giles with Jerry Smith and Caroline Pewarden.

"One Breath is an Ocean for a Wooden Heart is an unusual modern dance duet for a disabled dancer and an able-bodied dance that continues to examine the relationship between physical transformation and identity. In this performance, the dancers wear 28" wooden stilts secured to their arms and legs. The stilts are constructed from familiar, every-day objects to create illusion and are a visually compelling tool of transformation.. The queen-Anne style table legs enable the dancers to create a basic illusion of table and chair shape. Through the quality of their movement, the dancers transformed through a wide range of imagery: animated furniture, magical toys, 8-legged insect, 4 legged gazelle, 2-legged birds. The affect is an eerie other worldliness, that may leave audiences with the idea, that they can't trust how things appear. Two dramatically different bodies navigate a movement and sound landscape, that is both enabled and constrained by their use of wooden stilts. The precarious nature of working on stilts equalizes the dancers' physical abilities: thereby opening a dialogue about relationships between disabled and non-disabled people."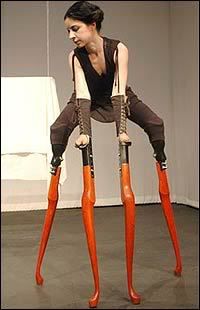 When Lisa was 21 years young she lost her fingers and legs to a staph bacterial infection --

This is only one of Lisa's many performances, several years ago she performed a solo modern dance of the Five Open Mouths in Boston, MA., at Boston University.

Five Open Mouths, is a dance piece which "explore themes such as the conspicuous nature of possessing a deformed body in public, achieving acceptance through merit, the universal human desire for comfort, lifestyle modifications inherent in living with prosthetics and the quest to evolve para-human abilities through technology."
see Lisa Bufano Amputee without Legs knows the Art of Dance.

Friday, June 20, 2008 - 8pm - $10
For tickets: 925.708.0752 / www.companycballet.org

The Malonga Casquelourd Center for the Arts
1428 Alice Street,
Oakland, CA 94612
Wheelchair Accessible
Admission: $10
For tickets: 925.708.0752 / www.companycballet.org

Choreographed and Performed by:
Lisa Bufano and Sonsherée Giles
of AXIS Dance Company

Sound score created by:
Jerry Smith
Music performed by:
Jerry Smith and Caroline Penwarden
Costumes: Sonsherée Giles

Wooden Hearts is a dance duet on table leg stilts that recently premiered in December 2007 in Zagreb, Croatia. Read more about this work

The Oakland Dance Festival program includes performances by Moving Arts, Viktor Kabaniaev, Melissa Ullom with cellist Gianna Abondolo, Beth Kaczmarek, Christina Braun, SF Butoh LAB, Abigail Hoesin, ahdanco, Irva Hertz-Picciotto, HerPic Performances, Patricia Banchik, Kinesis, Sheetal Gandhi, Catherine Galasso, Run For Your Life!...it's a dance company!