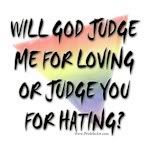 The God fearing law abiding fruitcakes of the WBC are at it again.

They're set to protest gay marriage in California. Check out this press release - you have to laugh!

WBC will picket the godless and blasphemous same-sex marriage farce scheduled to take place in God-forsaken, Hell-bound San Francisco - Tuesday, June 17, at 9:00 a.m. to 9:45 a.m. - at the San Francisco City Hall, 1 Dr. Carlton B. Goodlett Pl., San Francisco, CA.

Here's the
WBC's Itinerary
and
a flier I'm sure they are very proud of.

But, I've got to share this with you - (just another pit stop) - in their things to do.
WBC will picket the funeral of the preacher Eugene Earl Woodhouse (whom God killed in a tractor accident) - at Eckhardt Funeral Chapel, 3296 Charmil Dr., Manchester, MD - Sat., June 7, at 10:15 a.m. to 11 a.m.

What are these people smoking and don't tell me a Menthol Cigarette!